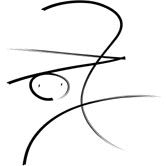 Saliq Francis Savage
Co-Artistic Director, Choreographer

Saliq began dancing in college while studying mathematics and science though his kinesthetic skill was first tuned through tree climbing, skiing and windsurfing. Saliq is a Teacher of Body-Mind Centering® and contact improvisation, a Laban Movement Analyst, ISMETA Registered Movement Therapist and he maintains a private movement/bodywork practice working with infants, children and adults. Since 1990 Saliq has created collaborative work throughout North America, Asia, Europe and South America notably with Gabi Morales, Christina Klissiouni, Lisa Schmidt, Stephanie Maher and most recently, since 1998, with Jen Polins.

Jennifer Polins
Co-Artistic Director, Choreographer

Jen started her classical ballet training at the age of 4. By 17, she was dancing with the Joffrey II Dancers, and continued on to the Milwaukee Ballet and the Zurich Operahaus Ballet. While in Zurich she was a founding member of the modern dance company POOL, and began choreographing and teaching New Dance, Ballet, Creative Movement and Improvisation to children and adults throughout Europe. Her work has been shown in Switzerland, France, Germany, Poland, Taiwan, Boston, New York, and Western Mass. She has co created over ten pieces with Saliq Francis Savage, who she has been working with since 1997. Jennifer is a certified Essalen Massage Therapist, and a certified Pilates, GYROTONIC®, and Yoga Instructor. As well as directing, choreographing, and administrating for Wire Monkey Dance, she teaches dance and co directs the Catalyst Dance Company at the Pioneer Valley Performing Arts High School, teaches yoga, dance and Pilates locally and abroad and is the director of Movement Resource, a movement therapy studio in Northampton. Jen and Saliq are parents to two lovely children Edalena and Ascher.

Katie Aylward, Apprentice

Katie is exploring movement through rock climbing, white water rafting, and of course dancing. She started dancing her freshman year at Franklin Pierce College, where she majored in fine arts and minored in dance. In college Katie performed and choreographed at the American College Dance Festival. Since graduating Katie had performed locally in Holyoke, Boston, and at the White Mountain Dance Festival. Katie is grateful for what she has been learning this past year from each company member's unique style of movement.

Ione Beauchamp, Dancer

Ione Beauchamp lives in East Chatham, NY and teaches dance and somatic movement at UAlbany. She has danced with Wire Monkey Dance since 1999. Ione is also a member of several Hudson Valley Dance Labs, including ESL ( Emergent Scores Lab ). She is a practitioner of The Trager Approach, Body-Mind Centering, is a registered yoga teacher and was certified to the apprentice level in gyrotonic/gyrokinesis. Ione lived in NYC for 25 years where she received her BA from Barnard College, her MFA from NYU's Tisch School of the Arts, and danced with numerous choreographers, including Bill Young, Peggy Peloquin, Danny Lepkoff, Diane Frank & Debby Riley, Renee Wadleigh, Nina Weiner, and was a founding member of Teri Carter's Mixed-Ability group Mobility Junction , as well as creating and performing her own work .

Ariel Cohen, Dancer

Ariel Gonzalez Cohen, originally from Shelburne Falls, MA, has an M.F.A. in Dance from Smith College (2007), a B.A. in English from UMass Amherst (2000), and a pilates certification from Ellie Herman Pilates Studio in San Francisco (2003). Her evolution from ballet to modern dancer began in 1998 and carried her to San Francsico (2000-2004) where she performed with numerous companies and independent choreographers including Company Chaddick, Huckaby McAllister Dance and as a soloist with Dance Repertory San Francisco and Peck Peck Dance Ensemble. While in San Francisco she taught movement for the ODC Children's Program, American Conservatory Theatre and the Hills Project. Since moving "back home" in 2004, Ariel has worked as a freelance artist, performing locally and in Houston, San Francisco, Scotland, Boston, New York and Providence. In 2006 she was invited to perform a solo of her making at the Kennedy Center in Washington D.C. for the ACDFA National Gala and was nominated for the ACDFA/Dance Magazine Choreographer Award. This September slipperyfish dance, a two woman company she co-directs and performs in with Kellie Lynch, premiered its first full evening of work. In addition to performing, Ariel works as a movement therapist and teaches modern dance at the Pioneer Valley Performing Arts Charter High School, East Street Ballet, Amherst Ballet, and at Smith and Amherst College beginning in the Spring. She would like to thank her husband Tomas for his support.

Milena Dabova, Apprentice

Milena likes to move around, towards, back and forth, and within, but she also likes to be still. Her movement was initially confined to her home country Bulgaria, until she eventually chanced upon the Valley where she studied theater/dance and psychology at Amherst College. This season has been Milena's introduction to Wire Monkey Dance and the vast territories of their work. Moving in these territories has left her puzzled, excited, expanded and touched.

Nicole Dagesse, Dancer

Lover of life, trees, and movement, this Vermont native is currently making her life as a modern dancer and teacher through out Massachusetts. Nicole graduated summa cum laude from UMASS, Amherst with a BFA in dance and BS in Environmental Science. As an undergraduate, Nicole danced in the Five College Dance Department and has performed the works of Fritha Pengelly, Robert Battle, Randy James, Chaos Theory Dance, and Jim Coleman and Therese Freedman. Since moving to the Boston area, Nicole has danced with the Boston Somatic Dance Company and LostWax. Nicole's most recent performance opportunity was to travel to Black Rock City, Nevada with Bennett Dance Company to perform at Burning Man. Nicole's own choreography has been supported by an Honors Thesis Research Grant, the Dean's Award, the Silverman Scholarship, and the Emerging Artist Award. This is Nicole's forth season with Wire Monkey Dance and she continues to be amazed by the possibilities of the work and the depths of her fellow dancers.

Stephen Katz, Musical Director

Stephen is a cellist, guitarist, composer and teacher. He premiered his cello compositions at Carnegie Recital Hall in 2001 and has performed with the Paul Winter Consort. He is composer and music director of Wire Monkey Dance, has collaborated and performed with members of Pilobolus Dance Company, and has been a Visiting Artist at Amherst College. As a co-founder of the cello/movement/theater company Seen & Heard with the late dancer/monologist BJ Goodwin, Stephen literally danced with the cello while accompanying the dramas they played out on stage. He has been a pioneer in the art of what he calls Counterpoint Strumming techniques for the cello and continues to develop a repertoire of deeply rhythmic compositions which incorporate melody and accompaniment into a single, idiomatic cello part. Stephen's solo recording First Person Singular features his songwriting, singing and guitar playing in addition to the cello, and was hailed by Connecticut Songsmith as "an incredible debut album by a new and important artist". His recent releases (Looking Up, Earthdance, and Works For Dance And Theater) feature his looped compositions and improvisations. A native of San Francisco, Stephen received a Master of Music degree from the Cincinnati College-Conservatory of Music, and lives in Haydenville, Massachusetts. His CDs, including sound tracks for Wire Monkey Dance are available at cdbaby.com and stephenkatzmusic.com.

Will Savitri, Dancer

Will is a lover of music, food, movement, and community. It is his first season with Wire Monkey Dance, and he hopes to continue to develop his abilities in this creative work. He is the owner of Katalyst Kombucha and Green River Ambrosia, and lives with his wife Kelly and his dog Max in Shelburne Falls Massachusetts.

Joe Seitz , Dancer

Joe enjoys another season with the company. Joe continues to live and work in the Pioneer Valley. Keep an eye out for him and his Grupo Omulu Guanabara Capoeira. He would like to thank the women in his life who give him strength and inspiration to create.

Yoann Trellu, Videographer

Yoann Trellu was born in 1976 in Nantes, France. He first study as an x-ray technician and then started to work with video in collaboration with musician. He moved to Berlin in 2003 and begin to work with dancers and choreographers. For each production he develops a custom made software allowing live interaction / synchronization with the dancers. Main dance collaboration: Stephanie Maher / Kathleen Hermesdorf, Yui Kawaguchi, Yumiko Yoshioka, Michael Schmidt and Howard Katz and Wire Monkey Dance, now in their 4th collaboration. He also perform as "Le Code", an audio-visual duet/installation with Laurent Lavole. More information and videos at www.keyframed.org

Whitney Tucker, Dancer

Whitney Tucker, a southern Illinoisan, graduated Magna Cum Laude with a BFA in Dance Education from Arizona State University. She is grateful to have explored movement as a public school teacher, the creator and facilitator of a healing arts program for women recovering from prostitution, and a social dance enthusiast (particularly the Polka). Her choreography has been presented at Bates Dance Festival, Conduit, Inc. and in the Ten Tiny Dances series, both of Portland, OR, as well as at The West Coast Contact Improvisation Festival. She is so thankful to have performed in the works of Pearson Widrig Dance Theater, Nita Little, Michael Foley, and various other thought-provoking friends and colleagues. When not intentionally investigating movement or teaching Pilates, Whitney is likely asking a stranger a personal question, singing along with her ukulele, or cutting hair. As well as joining WMD last fall, she currently dances with Heather McArdle's Blueprint Violation, Tiffany Mills Dance Company, Anal Sublet (Co-Director with Amber Martin/Patrick Ferreri), and David Dorfman Dance. Sincere gratitude to all family and friends who urged me onward and into this wild monkey world!

Lizzy Tyler, Dancer

Lizzy Tyler is a graduate of The Tisch school for the Arts' Experimental Theater Wing at NYU. During her 7 years in NYC she worked with Tamar Rogoff, Dusara dance, Interferon, among others and was a founding member of the Morgon Kara ensemble. Lizzy's love of movement and Performance has taken her to Amsterdam, Italy, Germany, Former USSR, Bulgaria, China, Tibet, Indonesia, and Nepal to work, study and Perform. In the valley she has danced for Mollye and Kelly Maxner, Hawley Martin, Katrina O'brien, Katrina Hawley, Sarah Ely, Nancy Hughes, and Ariel Cohen. Lizzy also works with Chimaera Physical Theater; most recently performing their work 'Cafe forever' at the Joyce Soho in NYC. Lizzy works as a yoga and pilates instructor and personal movement trainer at PVPA, the Yoga Sanctuary and Movement Resource.. She lives in Northampton with her super rad daughter, Lila. This is Lizzy's fourth year with Wire Monkey Dance and she would like to thank the company for a brilliant season.